We seem to have formed a habit of taking overland trips. This time, it was the Pacific coast of Costa Rica. It had been a while since we had gone on a family vacation, and we wanted something a little different. After seemingly endless weeks of planning, the Deciders eventually managed to get our transportation and lodging lined up. We decided on a week at a large rental house in the hills above San Juanillo, Guanacaste province, a detour at another rental house in Santa Elena, Monteverde, and a one-day layover each way at a hotel in San Jose. We looked forward to a week-and-a-half of surfing, nature trails, and a different country.
The first part of the journey was familiar:  water taxis to Bocas and Almirante, and a van to wherever we were going. This happened to be the border crossing. We had to disembark, check out of Panama, take our bags across the bridge to Costa Rica, and check in. Then it was another bus to Puerto Viejo for a lunch stop, and still another bus to San Jose.
The drive through Costa Rica was very different from Panama. We passed vast plantations of banana trees, acres of pineapple fields, forests of bamboo, and wide rivers. The buildings and towns we passed also seemed to be sturdier and more well-built than what we saw along the Panama road. The drive was very beautiful, and became even moreso once we entered the mountains. We busied ourselves with reading, attempting to sleep, and looking out the windows. I got out the computer and started writing this blog post, with Nirvana in my headphones and green farmland and rainforest flashing past my window.
We eventually arrived at the hotel in San Jose, after 10 hours of riding in the back of the van. We checked in, and went out for dinner. The next morning, we rented a car, and started driving out to San Juanillo. This drive was also different from the day before. After a long "quick stop" at a Walmart (a Walmart!) to get internet and some miscellaneous items, we left the snarled traffic and absurdly steep and swarming roads of San Jose for rolling green hills and mountains. We drove through forest, over wide, deep river gorges, and past verdant pasture-land.
We were supposed to arrive at the house at four, but of course we were very late. I don't blame us. The house was out in the middle of nowhere, and the maze of dirt roads was nearly impossible as it grew darker. We eventually made it. The groundskeeper gave us a tour, we took a quick swim and had dinner, and flopped tiredly into bed.
The house was large and well-appointed, with three air-conditioned bedrooms, a deep pool, a widow's walk, and a beautiful and unobstructed view of the Pacific Ocean. It was located on a hill in the middle of the Los Sueños nature preserve, and the nearest neighbors, also on hills, were at least a three-minutes' drive away.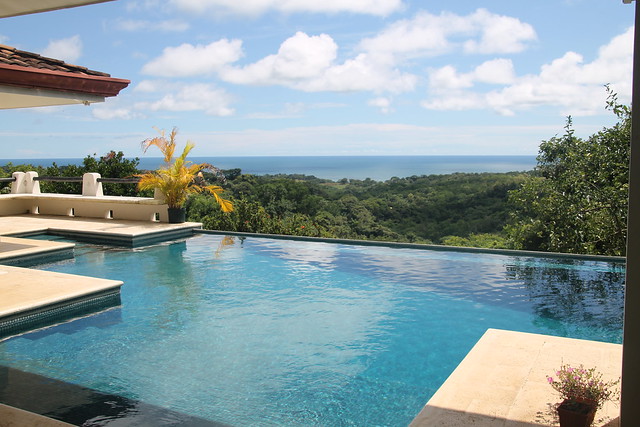 Probably the best (and sometimes the worst) part about the house was its close proximity to nature. We regularly saw bands of howler monkeys in the trees around the house, and heard them hollering at each other in the late afternoon.
Blue Morpho butterflies became commonplace, and we even saw a pack of coati in a tree on the last day at the house. At around 9 o'clock at night, frogs spontaneously appeared on the pool deck, and started croaking up a storm. Dozens of geckos also came out at night, and it was fun to watch them stalk bugs across the ceiling. There was a wasp nest the size of a grapefruit hanging from the eaves, and moths, crickets, and other insects became regular companions. It wasn't that the house was unclean, just that it was surrounded by nature, and insects rule the earth.
On Sunday, our third day in Costa Rica, we went exploring in the car. We drove for miles, reconnoitering the local towns, forming an idea of what we wanted to do with our week, and generally getting the lay of the land. The network of dirt roads connecting San Juanillo, Nosara, and the other coastal towns could only be called dirt roads in the loosest sense of the term. They were more like mud roads, with a healthy dose of potholes, stream fords, and largish rocks. We decided, after much experimentation, that driving slowly in our Hyundai Santa Fe 4×4 over this type of uneven terrain only made the ride longer and rougher. No, the idea was to drive as fast as was safe, and only slow down when confronted with a deep trough, a turn, or a river. Then, we just had to hold on to our seatbelts like rodeo cowboys as the car bucked and shook around us. The degraded condition of the roads was not kind to the poor car. Over the course of the trip, we got it covered in mud, knocked loose a piece of plastic trim, and lost a license plate. On Saturday, we woke up to discover that one of the tires was flat, and Dad had to change it before we could go anywhere.
The next few days were all about surfing. Paul, the guy who rented us the house, recommended Cacho's Surf School on Playa Guiones, Nosara, so we went over there. At least some of us had a little previous experience surfing, but we all needed lessons.
The Pacific waves ware rolling and green, and the shallow slope of the beach allowed for some very long rides. Playa Guiones is supposedly one of the best places for beginning surfers. We were certainly not disappointed. We started out on the white water, the waves that had already broken, but by Wednesday, we were surfing the green water (but not very well). We did meet Cacho, but we were taught by the surf instructors, Hector and Steven, who spoke very good English.
Cacho gave us some sort of deal by which we would pay at the end of the week for all the lessons and board rentals, and get a discount. In addition to surfing, the Surf School also did river kayak tours that included hiking and waterfalls. Being semi-avid hikers and not-so-avid kayakers, but very enthusiastic waterfall-jumpers, we scheduled a hike/kayak for Thursday.
Unfortunately, the weather had different plans. It rained all Wednesday afternoon and night, and when we tried to drive to Nosara early Thursday morning, the first ford was swollen with water from the mountains. While we sat in the car deliberating about whether to proceed, a hapless pickup truck attempted the crossing and bogged down. After about a minute of watching them struggle, we decided that they needed help, and went out to lend a few hands. We waded out into the muddy stream, and after a couple minutes of pushing and shoving, we got the truck unstuck. It was unexpectedly fun, and everybody had a good laugh when the local man was sprayed with mud from the tire as the truck clambered its way to freedom. The good deed for the day accomplished, we turned back to enjoy a day of resting and doing nothing.
We tried again the next day, which was sunny and clear. We all (Dad included) drove over to Nosara, where we met Hector and Karel (who also works at Cacho's). They loaded up the kayaks onto an ATV trailer, and we followed them out of town to the start of the hiking trail. While Dad followed Karel to a place where he could wait for us at the mouth of the river, Hector took us up to the mountain stream. It was more of a walk than a hike, through cow pastures and rainforest. The waterfalls were quite beautiful. We hiked upstream and played in the rushing water for a while. Then we went back downstream to where we would start the next part of the excursion.
The river was broad, shallow, and very muddy. After the recent rain, there was a good current. We had a quick snack, boarded the kayaks, and started off. River kayaking is different than ocean kayaking. You don't have to paddle as much for propulsion, as the current generally carries you along. However, steering is extra-difficult because in addition to going where you want to go, you also have to counteract the kayak's infuriating tendency to hit the riverbank, T-bone other kayaks, and take bends sideways. Another thing that I did not realize when I signed up was just how long we would be out on the river. I thought that we would be mostly hiking and swimming, and therefor neglected to put on sufficient sunscreen. As it turned out, we were on the river a rather long time, about three hours, and there weren't many shady trees growing in the middle of the stream. Let us just say that I greatly improved my tan the hard way.
However, it wasn't as bad as all that. It was actually quite nice, with the jungle on either side, or fields of cattle, and every now and then an island with small trees or bushes. The rapids were fun, even if we sometimes got hung up on tree branches. Even the occasional capsize was a refreshing break from the heat and relative monotony. We saw a number of blue herons fishing by the riverside, and occasionally a Jesus Lizard dashing for shore across the surface of the water. We even saw one or two small crocodiles lounging on the banks, though Hector assured us that there were bigger ones around. The river eventually dumped us out at the ocean near Ostional, and there was Dad waiting with the car.
On Friday, our last day in San Juanillo, we all went to Playa Guiones. We had another successful day of surfing the green waves with Hector and Steven, and Rachel caught some waves too.
Afterward, we went out to lunch, packed our bags, and cleaned the house in preparation to leave the next day for the mountains.
To be continued…